Summer Trails Baseball Camp

Our Goal
Our primary goal is to help each camper achieve their fullest potential by learning correct techniques from experienced coaches who know how to make the game fun.
We continue to create new opportunities for our campers to engage in sport, have fun with friends, expand their limits, develop fundamental baseball skills, learn about sportsmanship, and experience camp to its fullest and maximize their potential
Baseball is a game of repetition. At Summer Trails we strive to ensure that players have many attempts at bat each day. Each camper plays two baseball games daily. Additionally, campers participate in batting cages and batting tee practice to maximize their at bat opportunities. Our baseball games include an aspect of healthy competition balanced with good old fashioned fun including Home Run Derby and Bat Control tournaments.
Why Summer Trails Baseball
We are situated on 20 Private Acres with 2 baseball fields, batting cages and professional training equipment
We hire the highest quality coaching staff. Our coaches are dedicated to training, educating, and inspiring our young athletes
Our campers are visited by MLB Alumni to enhance our training program.
We are the only baseball training program that offers Red Cross Instructional Swim and Free Swim Daily
Our program has been developed for the novice through experienced player
We offer a full day baseball program (9am-4pm) and extended hours are available
Your camper will gain valuable baseball training experiences and have the opportunity to enjoy our traditional camp activities as well!
Instruction
Summer Trails creates an on field atmosphere that is both fun and educational for ball players entering 4th thru 7th grade. Each morning a specific aspect of the game is discussed, demonstrated and small group instructional workshop stations are implemented. Whether you are a baseball novice or an experienced player everyone benefits from breaking down skills to review. Instructional units include perfecting the crow hop, reviewing position play and developing pitching speed and accuracy.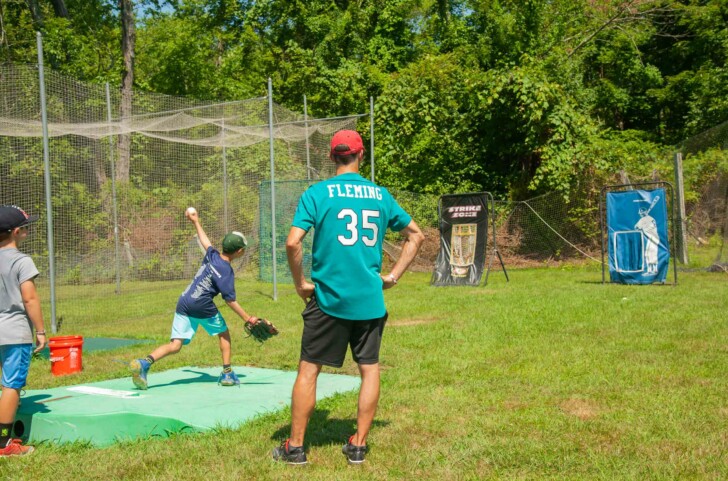 Baseball Camp Director – Adam Massi
Baseball Director at Summer Trails Baseball Camp since 2018.
Adam is a Mahopac HS graduate and Varsity Baseball Captain. He attended Mercy College as a 4 year baseball starter and 2 year captain.
He received invitations to Major League try outs for Kansas City Royals, Tampa Bay Rays and Pittsburgh Pirates.
Head Coach of the Varsity Baseball Team at Blind Brook since 2016 and was voted two time League Coach of the Year!